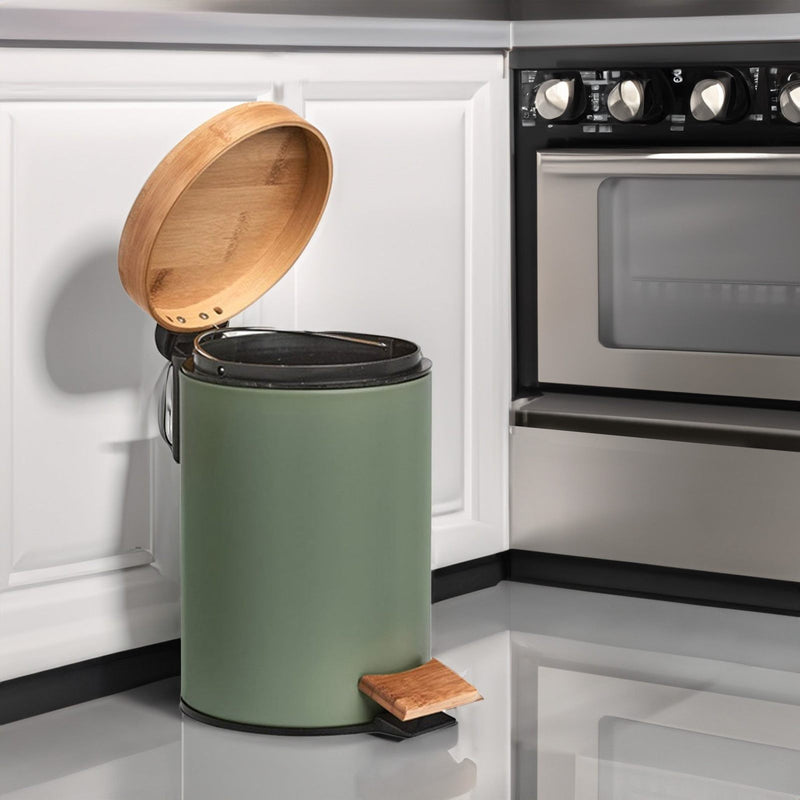 3L Pedal Bin with Bamboo Lid - Sage Green
Save £12.08
Save £14.50
In Stock
£11.50
£26.00
£9.58
£21.67
---
Order Within , For Delivery On

Planet Friendly Sourced Items


UK Company With Real People

Designer Quality Without Exception
Dimensions:
Height: 240mm Width: 168mm Depth: 168mm
Features


A brilliant bathroom bin in sage green


Environmentally friendly bamboo pedal and lid


The foot pedal makes disposing of waste straightforward


Sage green coated iron body that's suitable in any bathroom interior


Plastic bucket makes it easy to empty


A gorgeous Sandi-style design


This bin is the perfect addition to any bathroom, being incredibly stylish and useful. Dispose of all your bathroom waste in this bin, with three litres of space inside being more than enough. The lid and pedal are both made from environmentally friendly bamboo which makes it great for your home as well as the planet. The sage green blends brilliantly with natural bamboo to give you a beautiful item that will be a mainstay in your home for many years to come. Perfect for your bathroom, this excellent bin works terrifically in that environment, taking up minimal room whilst adding style. The pedal is incredibly useful, allowing you to use the bin without having to bend down every time. There is a black plastic bucket inside the bin that catches all your rubbish, making it easy to empty when full.
colour finish
Green,Natural
material
Bamboo,Iron
room
Bathroom
You may also like
Home Office

Related Products

Recently Viewed