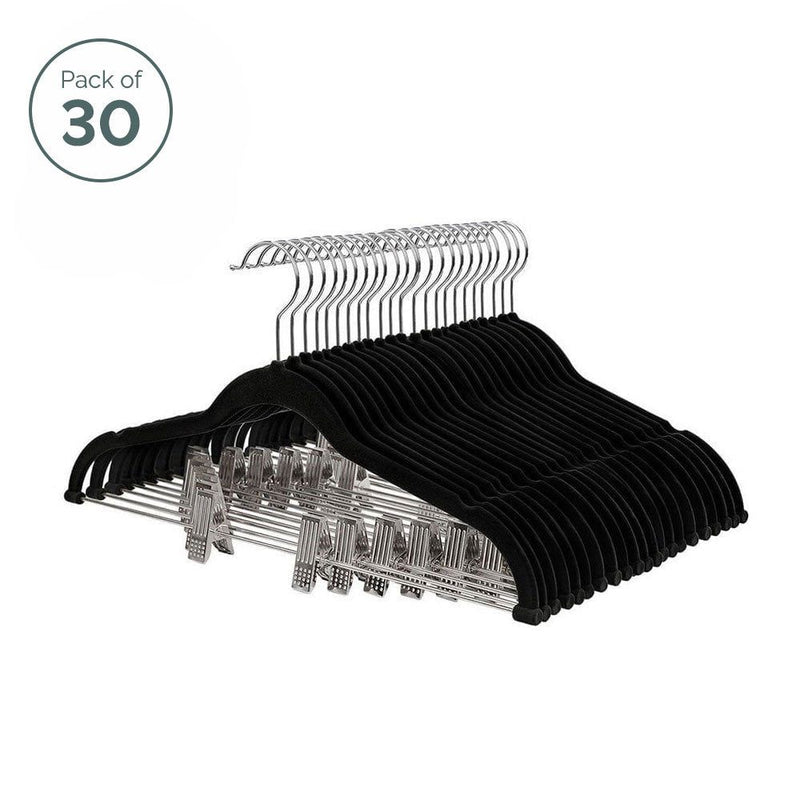 30 X Non-Slip Black Velvet Trouser Hangers with Adjustable Clips

Planet Friendly Sourced Items


UK Company With Real People

Designer Quality Without Exception
Dimensions:
Height: 235m
Width: 425mm
Depth: 5mm

Features:
Enhanced friction due to the black velvet finish, ensuring garments stay securely on the hanger
The clips are designed for holding trousers and skirts
Clips can be adjusted for a perfect fit
PVC plastic clips providing increased friction and safeguarding garments from marks and slipping
Wardrobe-friendly hangers with a slim 6mm thickness and angled hooks for optimal space utilisation
Experience the ultimate garment storage solution with our premium hangers. The black velvet finish enhances friction, preventing clothes from slipping off and ensuring they remain securely in place. Our hangers are thoughtfully designed with adjustable clips, specifically tailored to hold trousers and skirts with ease. The PVC plastic clips not only provide increased friction but also protect your garments from unwanted marks and slipping. With their slim 6mm thickness and cleverly angled hooks, these wardrobe-friendly hangers optimise space utilisation, allowing you to neatly organise your closet without sacrificing valuable room.
colour finish
Black
material
Metal,Velvet
sizes
425mm
You may also like
Home Office

Related Products

Recently Viewed